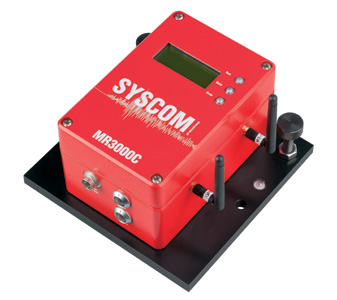 Vibration and Motion Measurement System
The MR3000C in SYSCOM's rugged RED BOX is a compact vibration and motion measurement system. As such, it meets all user expectations in a state of the art device and thus, is a highly reliable and efficient tool for many applications in:
Civil Engineering
Industrial Vibrations
Construction Site Monitoring
Tunneling
Truck and Rail Traffic
Blasting Monitoring
Model Verification
Earthquake Engineering
Monitoring of Structures (Dams, Bridges etc.)
Geology
Soil Characterization
Earth Science
Earthquake Monitoring (Seismic Intensity)

MR3000C Datasheet »
Seismic Monitoring Network Solution for Dam's Structural Response and Monitoring
The MR3000DMS seismic monitoring system is the most compact, integrated and reliable system for dams, ensuring highest level of safety and sustainability. Automatic earthquake detection and structural monitoring will ensure dam's full integrity over its lifetime. The solution provided by SYSCOM MR3000DMS is extremely versatile and easy to install, thanks to its state of the art Ethernet master-slave connectivity and the command & control access through embedded web server.
3 relays output (alarm 1, alarm 2, device error) can be directly connected to the control room for a centralized overview and an automatic logic response in case of any seismic event.
MR3000DMS comes with the following built-in features:
Compact unit containing sensor, recorder, battery and communication.
Fiber optics communication.
Internal AC/DC with Overvoltage protection, type I + II.
Embedded Web server for easy configuration and control.
Optional accurate timing (GPS).
3 output relays.
Industrial cable glands and internal terminals (no additional junction box needed).

MR3000DMS Datasheet »
MS2008+ Mems Accelerometer
The MS2008+ is a triaxial high dynamic range accelerometer based on state-of-the art MEMS technology. Its small dimensions, rugged and splash-proof design and excellent long term stability make the MS2008+ the perfect match for seismic monitoring in dams, buildings and other structures.
The micro machined capacitive MEMS sensor, thanks to its flat frequency and phase response together with the very low short- and long-term drift, provides true engineering data that require no post-processing. The MS2008+ from SYSCOM comes factory calibrated, equipped with a fully comprehensive self-test function and requires no re-calibration.
Technical Specifications
Principle: The MEMS accelerometer consists in a micro-machined capacitive sensing element and a custom integrated circuit that includes an amplifier and differential output stage.
Hysteresis: None
Noise: typ. 7μg rms/√Hz
Operating Temperature: -40 to +85 °C
Orientation: Triaxial, horizontal (floor) mounting or vertical (wall) mounting.
Non–Linearity: < 0,5 % of full scale.
Frequency response: DC to 600Hz (-1,5dB)
Dynamic range: typ. 100dB (@100Hz BW)
MS2008+ triaxial sensor
Measuring range: ±4g
Sensitivity: 1,25V/g (differential)
Self test: Test – pulse

MS2008+ Datasheet »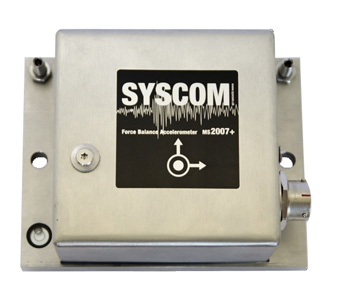 MS2007+ / Force Balance Servo Accelerometer
The MS2007+ series triaxial force-balance accelerometer uses the latest technology of force-balance feedback to compensate the drawbacks in the mechanical characteristics of traditional sensors, such as non-linear distortion and limited sensitivity due to elastic behavior of the mechanical components.
The MS2007+ features high sensitivity, broad linear range and high resolution. The design integrates mechanical parts and electronics, resulting in consistent technical parameters, a rugged design, reliable performance, light weight and small volume.
The MS2007+ comprises a calibration circuit to facilitate self-testing and automatic calibration in the field. It is available as uniaxial and triaxial sensor.
Technical Specifications
Acceleration Sensing Element principle: The sensing element is an analog mechanical force-balance accelerometer.
Hysteresis: negligible
Noise (RMS) 1-80Hz: typ. 50 ng/√Hz
Natural frequency: 8Hz
Damping: 0,7 (critical)
MS2007+ triaxial sensor
Measuring range: 2g standard
Orientation: horizontal (floor) mounting
Non – Linearity: <1% of full scale
Frequency response: DC to 80Hz (-3dB)
Dynamic range (RMS): >135dB (0,1 to 80Hz)
Self–test: test–pulse, damping Control

MS2007+ Datasheet »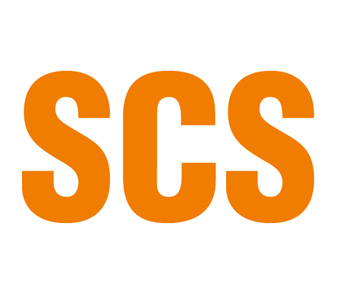 Syscom Cloud Software (SCS)
The SCS (Syscom Cloud Software) is a turnkey solution for the visualization, management and reporting of data coming from any MR3000 instruments. It provides easy access from anywhere to the vibration recordings as it is cloud based, centralize all the information from your monitoring projects and provide a global overview of the instrumentation at a glance.
First of all, the SCS provides quick and easy data transfer. The user simply associates his MR3000 devices to the cloud with a unique token and all the recorded data are automatically sent to the SCS. The only requisite is the need of an Internet access, using cables or 3G wireless networks.
For instrumentation management, all the MR3000 devices are inserted in a pool and can be assigned to different monitoring projects. The user can see all the latest alarms and warnings coming from the instruments in near real-time and define the desired reporting templates, automatically created by the SCS for each event or background file. Events and backgrounds can be freely exported in XMR/BMR or ASCII file formats.
Major Features
Automated access via a unique token
Access via any web browser
Open architecture with non-corruptible data
Management by projects
3 access levels (Admin, User, Viewer)
Pay per use only, based on tokens (1 token allows 1 MR3000 to upload data to the SCS during a period of 30 days)
Visualization of events and background data
Data export in ASCII, XMR, BMR format
Graphical comparison with standard regulations
Automatic user-defined reporting
Alarms and state-of-health conditions
Parametrization of MR3000 remotely

SCS BARTEC SYSCOM »